Thank you for a fantastic 2021 (Harvest Smokehouse) Season! See you in 2022!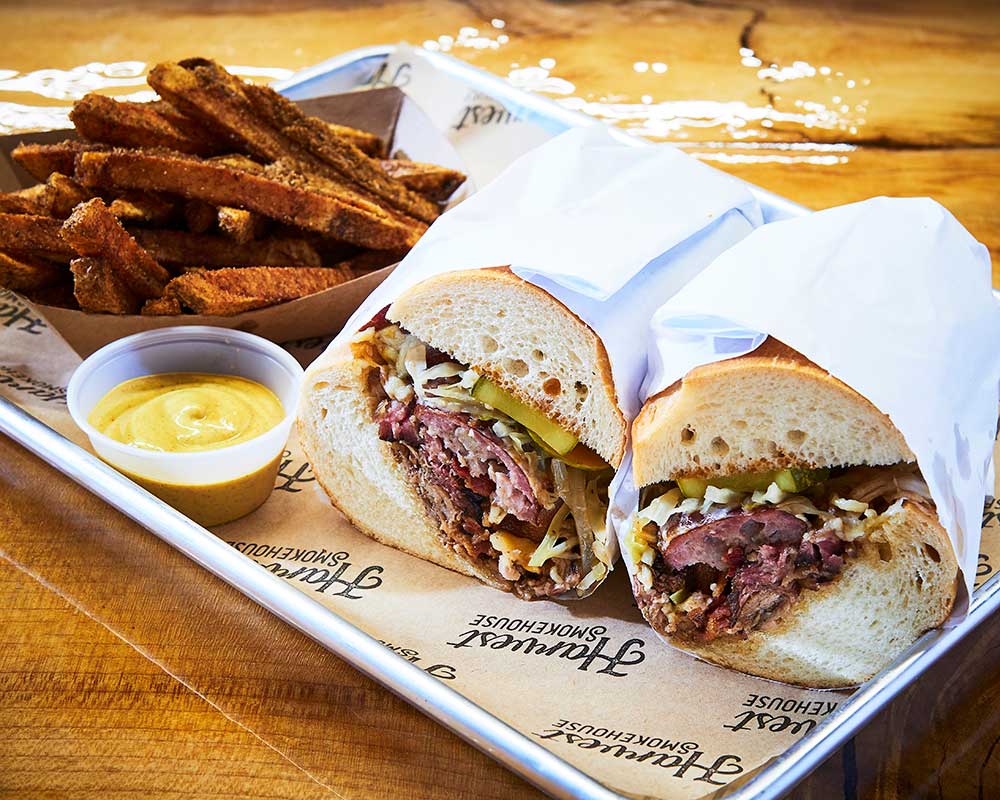 Sandwiches
Pulled Pork
Pulled Pork and Cider Slaw on a bun or unsugared cider donut with choice of sauce: 10
Apple Bratwurst
House-made sausage and red cabbage kraut on a roll with carolina apple mustard: 9
The Whole Hog
Pulled pork, butterflied Bratwurst, Bacon, Smoked Cheaddar, Cider Slaw, Pickles, and Applejack Q on a Hoagie: 16
TCB Melt
House-smoked Turkey Breast, Bacon, BBQ Russian, Smoked Cheddar, and Cider Slaw on a Hogie Roll: 14
Jerk Chicken
Pulled Jerk Chicken Thighs, Cider Slaw, Pickles, and Curry Mayo on a Bun: 10
Smoked Mushroom
Smoked and Marinated Portobellos, Cider Slaw, Pickles, Greens, and Cider Onion Jam on a Hoagie Roll: 12
Grilled Cheese
Smoked Cheddar and Smokey Russian on French Pullman: 7
Extras:
Pulled Pork (3), Bacon (2), Turkey (3), Mushrooms (2)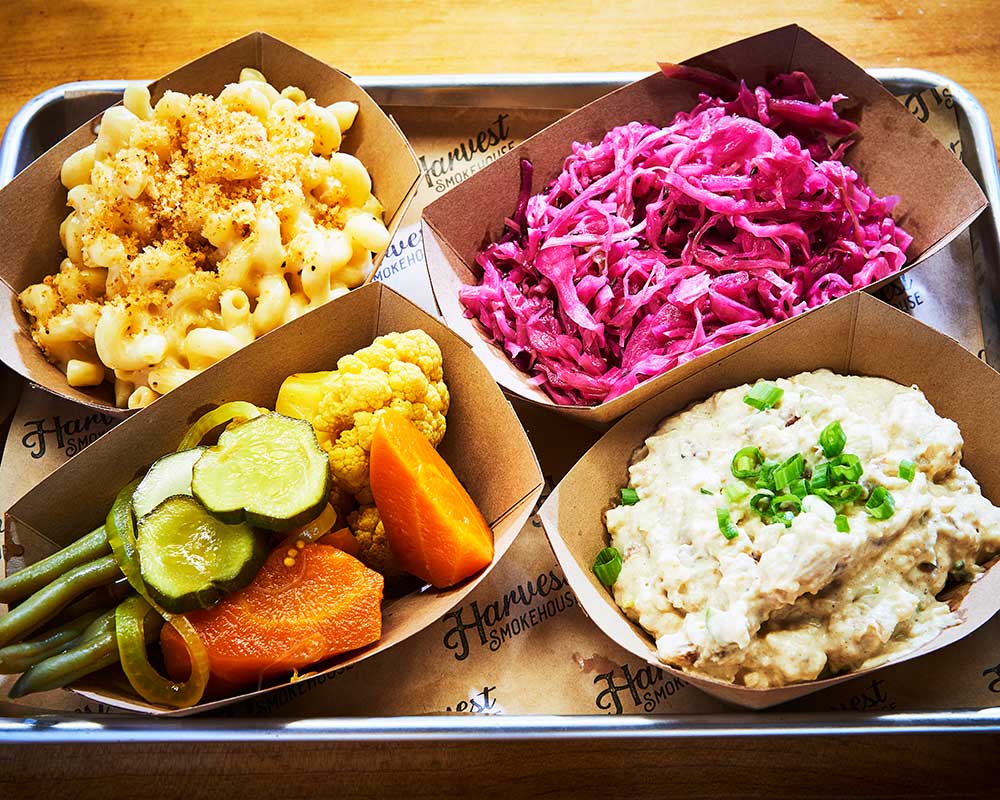 Sides
6 Oz – 5 16 Oz – 8 32 Oz – 13
Approx. Volume
Cider Slaw
Red Cabbage Kraut
Daily Sweet Corn
Smoked Potato Salad
Smoked Cheddar Mac
Drunken Cider Beans
Fresh Greens
Pickled Veggies
Hand-Cut Fries
Regular: Small (3) Large (5)
Jerk Fries with Curry Mayo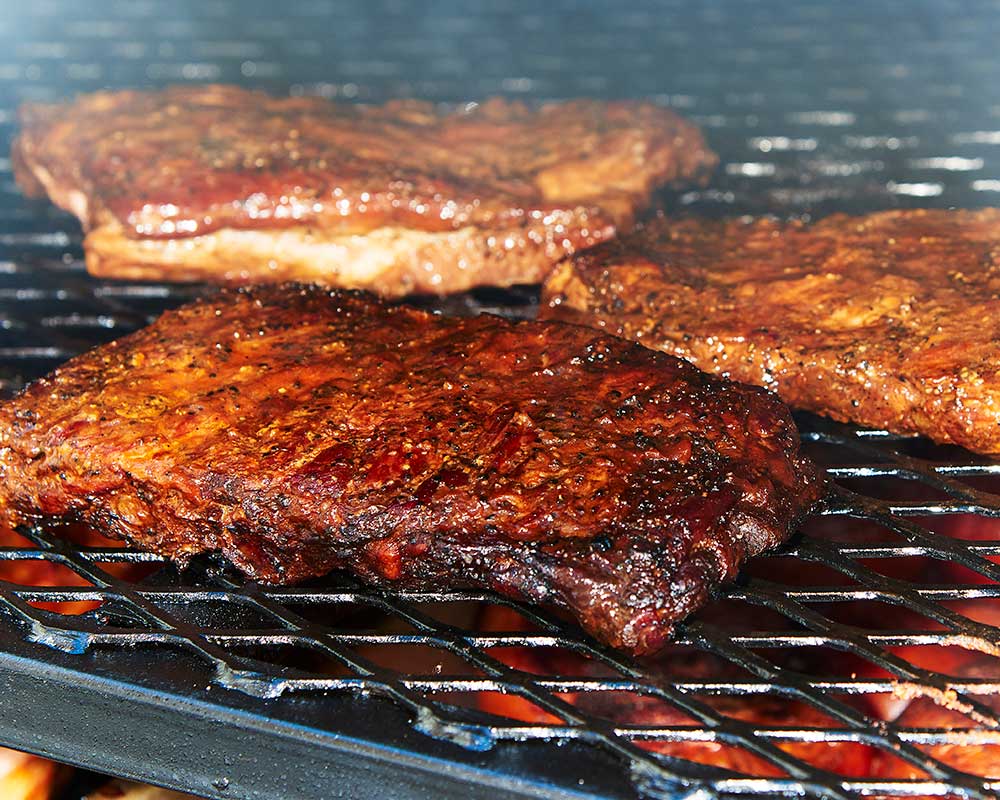 Applewood Smoked Meat
Served With Apple Cornbread And Sauce
Approx. Weight
St. Louis Ribs
Pulled Pork
½ Pound: 9
Full Pound: 16
Turkey Breast
½ Pound: 10
Full Pound: 18
Jerk Chicken Thigh
½ Pound: 9
Full Pound: 16
House Apple Bratwurst
One Link: 8
Two Links: 14
Chicken Drumstick "Wings"
1 Pound Tossed in Choice of Sauce: 13
Sauces
Applejack
Peach Chipotle
Jerk Cider Habanero
Carolina Apple Mustard
Assortment of All Sauces: 2.50
Pie! Pie! Pie!
Topped with Fresh Whipped Cream
Check Board For Ice Cream Flavors
Golden Harvest Apple: 4
Berry of the Day: 5
All Meats are smoked with Golden Harvest Applewood All Sauces and Meats are Gluten Free. Please Check our Board for Daily Specials. No Substitutions. Thank You.
Consuming Raw or Undercooked Meats, Poultry, Seafood, Shellfish or Eggs may increase your risk of Foodborne Illness.